The registrar RDAP server of ResellerClub/Endurance is at rdapserver.net and it has a problem.
The domain whoisview.com expired on May 4th 2022 and registry WHOIS/RDAP shows the expiry date as one year from the real expiry, that is May 4th 2023. This is normal because the registrar updates the expiry date with +1 year at the registry while the domain is in the renewal grace period. With most registrars you can find the actual expiry date by querying the registrar WHOIS/RDAP directly. The one year discrepancy between the registry and registrar expiry dates is an immediate indication that the domain has gone past it's original expiry date and is in grace period.
What is not normal is the registrar records obtained by directly querying the registrar RDAP server (in this case, rdapserver.net) showing a +1 year expiry date. This is very dangerous if you are monitoring the expiry dates using only RDAP.
The WHOIS server for Resellerclub at whois.PublicDomainRegistry.com shows the actual expiry as May 4th 2022 for whoisview.com, but the RDAP records at https://rdapserver.net/domain/whoisview.com doesn't. It even shows the original name servers and not the currently active parking name servers (*.parkpage.foundationapi.com)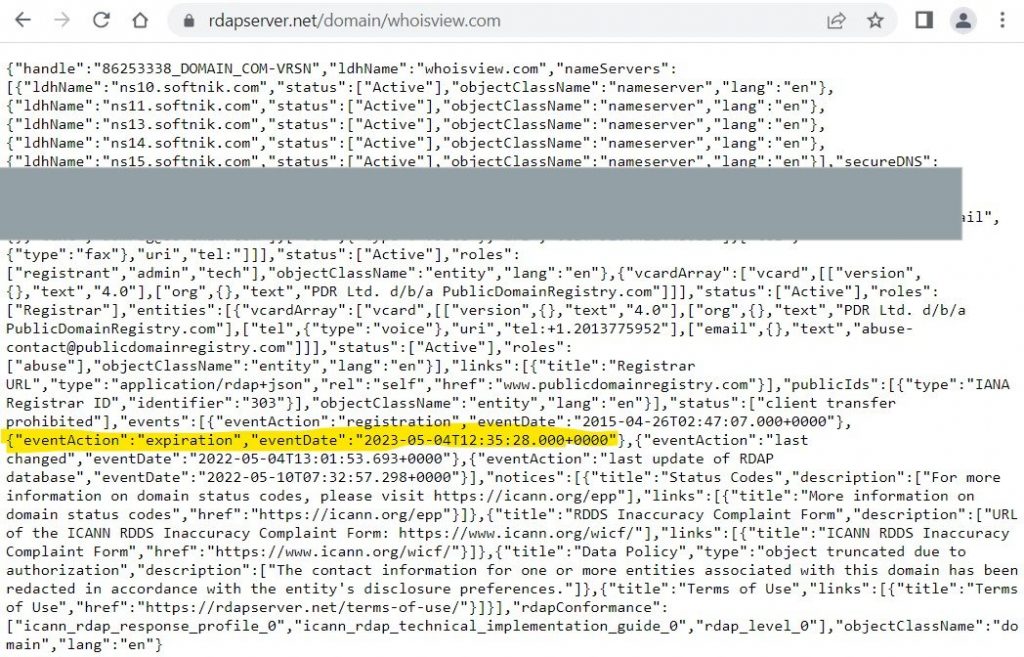 To recap
If you use RDAP to monitor your domains and have a domain that is expired and is in grace period, both the expiry dates will lead you to believe that you have renewed the domain for an year when you actually haven't.
The problem doesn't exist if you use registrar API or port 43 Whois.
Other registrar RDAP data too may have similar problems. Always look at the name servers (they will be often changed to registrar parking pages) and the domain status codes (domains in grace period will often have clientTransferProhibited)